Melina Fitness brings you Season 8 of her 60 Days Fit till Christmas Series, filled with fun and healthy holiday recipes and workouts.
The program includes:
Fun Holiday-themed workouts (Santa Step Ups, Kwanza Kick Backs, Run Run Rudolph, and more!)
Delicious and healthy Holiday recipes (Peppermint Mocha Shakes, Pumpkin surprise)
Weekly check-ins with Melina via e-mail and on social media
"Secret Santa" Suprise workouts and recipes!
A detailed daily exercise guide you can do at home
Tips for dealing with holiday parties & fun cocktail recipe guide!
Daily meal plans and recipe book
A 60-day calendar to keep you on track
Online Video workout instructions
Follow Melina Fitness on Instagram and Facebook and let's do this TOGETHER.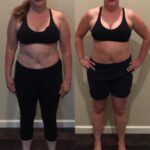 [vcex_heading text="Sign Up Today!" tag="h2″ link_local_scroll="" font_size="28px"][vcex_spacing]
[vcex_spacing]